ONE SIZE DOES NOT FIT ALL
You don't need to be a tax expert – that's what we're here for. Every member of the Traxion Tax team is dedicated to creating the right solution for you, no matter how complex your situation may be. A thorough investigation enables our team to fully understand your tax scenario, goals, and pain points before suggesting a thoughtful path forward.
Traxion Tax, Ltd is dedicated to providing clients with security and effective results. Our Enrolled Agents and Case Managers work directly with clients from day one, putting their experience and knowledge to work for real results. We are committed to consistent open communications with our clients. This commitment, no matter how big or small the case, allows our clients to feel confident their interests are always protected.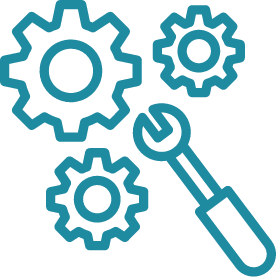 Every tax situation is different. In many circumstances, a client may be seeking something as simple as a payment plan to address their tax debt. This kind of resolution often involves significantly more work than one would think.
Tax Settlements are an option, in certain circumstances, that allow you to settle tax debt for less than what is owed.
Taxing Authorities occasionally have inaccurate figures regarding a taxpayer's liability. This may be a result of substitute return filings, inaccurate audits, misapplied payments, or human error.
The Internal Revenue Service and most States have a program called an Offer In Compromise (OIC). This program allows taxpayers to make an offer to pay off less than they owe. It requires that specific conditions be satisfied before the applicant may pursue an Offer In Compromise. Not all taxpayers will qualify for this settlement resolution.
Many small businesses and individuals are required to endure a tax audit at some point. This can be a very trying time. Determinations made by the taxing authorities may fail to consider critical information; especially if you do not have representation during the Audit process.
Penalties associated with delinquent taxes and filing requirements are very high. In some cases, the penalties that have been applied to a liability can be larger than the principal tax. The IRS and most States have programs that allow for taxpayers to appeal for abatement or removal of penalties and related interest that has been applied to their liabilities. In most circumstances, forgiveness is contingent on providing sufficient information under a reasonable cause criterion.
Sometimes, tax liabilities stem from an unworkable business structure rather than an inability to make tax payments. Our experienced professionals have analyzed and helped hundreds of small businesses streamline their operations and adjust the structure of their operations to achieve tax compliance.
Taxing authorities can be very aggressive and appear unwilling to accommodate taxpayers in a tough situation. You need to know that your assets are safe and protected.
The IRS, State, and Local taxing authorities pursue collections of delinquent tax liability aggressively. Don't allow the taxing authorities to put your business or family in jeopardy with blind levy action. Let Traxion Tax, Ltd work to get the taxing authorities out of your bank accounts and into a situation where you can operate without fear of levies against your accounts or assets.
The taxing authorities will secure their interests by filing liens against you and your assets, even if the liability figures are incorrect. Liens can severely hinder a business' ability to operate, especially when attempting to secure credit lines or loans. Individuals can be equally handicapped.
Failure to comply with all the State and IRS regulations can quickly result in unforeseen tax liabilities. Unaddressed, your tax problems can most certainly spiral out of control, resulting in large balances due to the government.

Subscribe to receive your free tax report
We are a team of dedicated tax professionals that believe you come first, you deserve the best outcome, and you deserve direct, clear, and reliable communication. There is an inherent conflict in the tax resolution industry. Just like in healthcare, where hospitals make more money the longer you are sick. However, wellness focused companies are more successful by helping you achieve and maintain physical health and wellness. At Traxion, we want you to achieve and maintain tax and financial wellness personally and in your business.
Together we can move from Tax Resolution to Business Resolution. Don't get stuck, get Traxion!